VISITOR INFORMATION
Our church home is a place where we share together the warmth of Gods love. We welcome visitors and new comers to Los Alamos.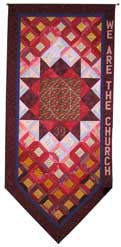 Where is White Rock United Methodist Church?
The church is located at 580 Meadow Lane in the subdivision of White Rock in Los Alamos, New Mexico. It is across from the entrance to the Overlook Park Recreation Area at the intersection of Meadow Lane with Overlook Drive. (map link)
When are the Services?
Sunday Worship begins at 9:00 AM
Fellowship time (coffee, goodies, and get acquainted):Immediately after the Service
Sunday School: 10:30 AM
Is there a Nursery Available?
A nursery is available during the Sunday Morning Worship Service for ages birth to 5 years old.

What should I wear?
Our church atmosphere is casual and people come in a variety of dress from jeans to suits. Come however you feel most comfortable.
Will I have to wear a name tag?
We want you to feel comfortable. We will greet you warmly, invite you to fellowship time but we do not use name tags.
Is your Church accessible to the handicapped?
We are wheel chair accessible with no stairs. Our parking lot is level and easily accessible.
Is there a Sunday School for my children and myself?
We have Sunday school for a variety of ages from toddlers to those in their golden years.

Do you have other activities for my children and youth outside of Sunday School?
Yes, we have a youth group that meets weekly and a pre-teen group (3rd to 6th grade) that
meet once a month.
How often do you have communion?
We have Communion on the first Sunday of every month. We serve communion with gluten free bread. People of all faiths are welcome at our communion table.